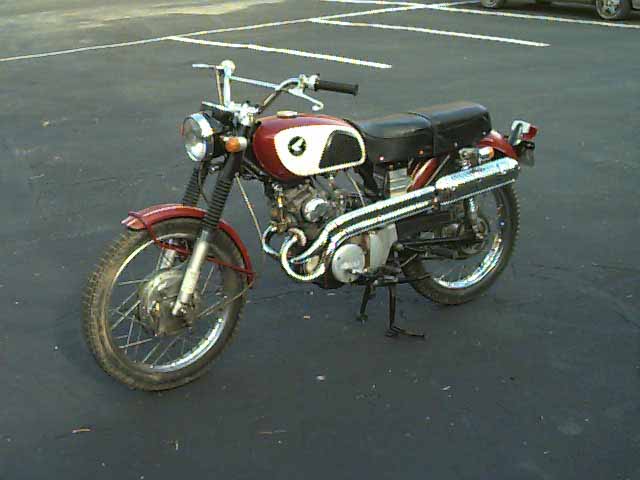 What is this bike? Looks like a CL160 but it is 125cc's!
Note:
Frame and Engine numbers start with CL125
Aparently all original stock ( including turn signals )
Does not appear in any US Honda Dealer Books
12 volt electrics
Rear Break CABLE--not rod
Has original paint scheme
Shape of the points cover and exaust pipes
Single carb and the air filter housing: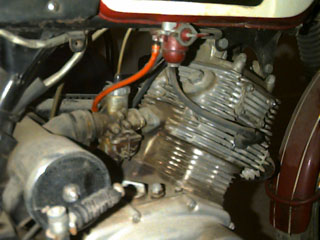 Click on the picture to see my restoration efforts!
Well folks! It looks like I have an answer thanks to Wayne Marsula:
Tim,
I took the pictures in to show Scott Brown, who is
extremely knowledgeable about vintage Japanese bikes.
According to him, it is a DOMESTIC model CL125. The frame,
and tank, are the same as used for the CB/CL 160, in Japan.
This model was never sold in the U.S., and was possibly
brought back by a military person, which was quite common
back then. If they were in the Air Force, they could even
bring them on the plane they took back to the States. The
paint job is not factory. It is a color and pattern not used
by Honda. One dead giveaway is the painted petcock. Another
thing that points to a domestic model is the turn signals,
which were different on import models. Scott also thinks
there is something odd about the exhaust system, but it may
be the picture reproduction. We can see a rear brake rod in
the rear wheel detail picture, and the lever is supposed to
be down, not up. Some people did this to keep from picking
up weeds or sticks with the brake lever. And since it is a
domestic model, it would not appear in the Honda
Identification books, or in any dealer information.
I have a C160 that is a domestic model. Most if not all
U.S. models were CA160. The C160 that I have has pressed
steel handlebars, controls that are faired into the shape of
the pressed steel part, and turn signals fitted onto the
pressed steel. Scott used to have a CA250, and it had
similar items to my C160. We know that bike was brought back
by an Air Force Captain. By the way, as you probably already
know, the rear shocks are not original, or stock.
So there you have it. I think this is a very fair
assessment of the bike, as Scott really knows the bikes. You
can show him most any part, and he will tell you what make,
model and year the part is for. He amazes me when we are out
picking through other salvage yards for bikes or parts.
Ride it and enjoy it!
Wayne

-Thanks!