Ok, don't hold me responsible if these are not correct. They sure work good for my bike and I have cross checked them with various sources. It is always important to check your owners manual. In my case I do not have an owners manual. Since I could find this info on the web, I had to go buy a buch of books. Here are the results of my search:
Head Bold Torque

3.3 to 3.7 mkg
Valve Clearance

0.15mm Intake

0.20mm Exaust

Point Gap
0.35 to 0.40mm
Spark Plug Gap
0.6mm
Static Timing
9 degrees at S mark
Idle speed
500 to 750 RPM
Recommended Spark Plug

R50, R60 Bosch W240 T1 or T2

R69 Bosch W240 T1 or T2

Bosch W260 T1, T2 after break-in

Engine Oil - SAE 40
2 Quarts, 4 Ounces
Transmission - SAE 90 Hypoid Gear Oil*
1.7 Pints ( just fill it to the top )
Drive Shaft - SAE 90 Hypoid Gear Oil*
100 cc to 150 cc's
Final Drive - SAE 90 Hypoid Gear Oil*
250cc ( just fill it until the level screw bleeds )
---
*Very important note about the use of Hypoid Gear Oil in older BMWs
IMPORTANT PLEASE READ
Some restoration books suggest that you use SAE50 in place of Hypoid Gear Oil. This is because some people have experienced premature seal falure when using the original seals and hypoid oil. I DO NOT agree with this recommendation.
Here is why:
1. I have consulted with several veteran "/2" mechanics and they have NOT experienced this problem.
2. If your seals are 40 years old.. like maybe you should replace them?
3. I would rather have premature seal wear the premature GEAR wear!
4. If you are worried about it.. Just replace the seals.
Here are the tech specks for a Russian Copy of the R-71:
Please Click on the graphic for Credits and Info!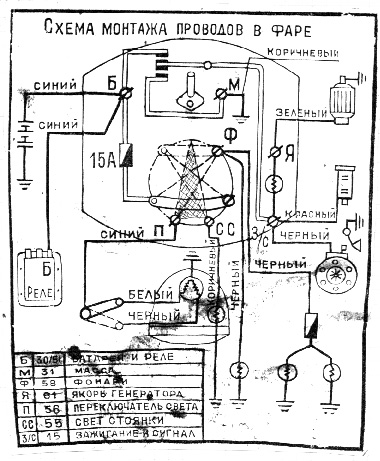 ---
Looking for more Tech Info, Specs, Service Updates and Manuals?
Click here
to browse to a fellow BMW Enthusiast's web page.
He has published an invaluable wealth of Vintage BMW Tech Info.
---
More Information about parts and service sources can be found on the Links Page.
---
Also, I highly recommend Ed Korn's videos, parts and crank service.
A must for any vintage BMW owner!
---
BACK